Red Egg Pod Chair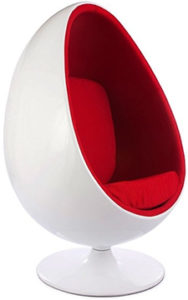 Red Egg Pod Chair
The Red Egg Pod Chair, could this be the perfect chair for your home?  Well, it's an instant iconic statement piece wherever you choose to place it. Our faithful reproduction of the famous Egg Pod Chair inspired by Finnish designer Eero Aarnio is an every day usable piece of furniture as well as a stunning piece of artwork.  This stunning chair could well sit in your lounge, bedroom or how about as a relaxing conservatory chair or even a special thinking chair for your office. Put it wherever it feels right for you.
Chair History
The Eero Aarnio's Red Egg Pod Chair has been delighting people all over the world since the swinging sixties and has been used in all manner of advertising campaigns ever since. The Beatles, Andy Warhol or The Prisoner film are just a few to name. What has made the chair stand the test of time is that the design is just so much fun. When you see it, you're just going to want to sit in it and quite possibly claim it as your own. You can choose from a variety of fabric colours to complement your white egg shell.
Additionally, expect to find more retro chairs for your perusal. Our collection covers some of the best chairs ever designed. The Big Ball Chair, similar in design to the Egg Pod Chair. How about the iconic retro hanging bubble chair. Made from a single clear piece of acrylic, you simply hang it from the ceiling. It's simply lovely.
shop now